Campaign Messaging

With Campaign Messaging, businesses can effortlessly send mass messages to their customers across various channels including WhatsApp, Instagram, Viber, Telegram, and Facebook Messenger, all directly from the Kommunicate Dashboard. Currently, we support only WhatsApp. We'll add other channels soon. This functionality of Kommunicate Dashboard will help you to effortlessly reach all of your users at once with a single message.
Prerequisites for Campaign Messaging

To use campaign messaging, you must integrate your Kommunicate account with the channels you prefer. Once you enable the integration, businesses must create templates of messages they would like to send. You can send templates across channels instantaneously except for WhatsApp. WhatsApp wants to ensure that businesses are not spamming their customers. To ensure this, they have a review process where they ensure that you follow all the guidelines.
How do you enable the Campaign Messaging Feature?

You can access the Campaign Messaging from the Kommunicate Dashboard Campaign Messaging

On this page, you can access a comprehensive list of your current contacts along with their relevant details such as name, user ID, phone number, country, and language. Additionally, you have the option to import contacts by simply uploading a CSV file.

In order to send the Campaign message, select your contacts from the list and click on the "Select Platform" button and select the platform you want. Currently, only WhatsApp has been added as a platform. We will be adding other platforms in the near future..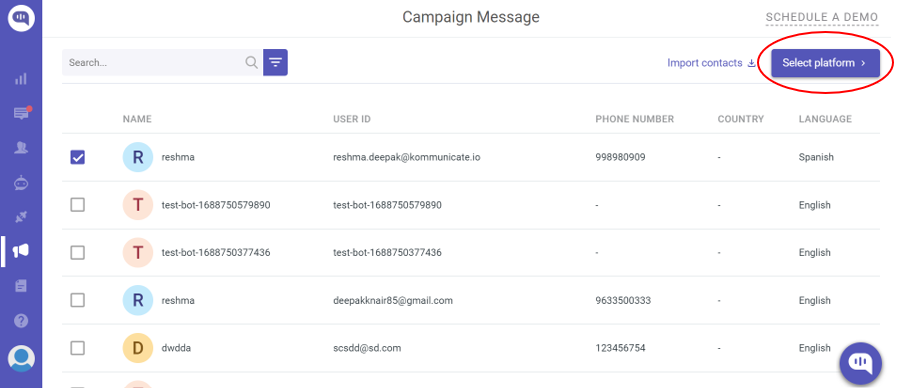 After selecting the platform, you have the option to edit the template or message according to your preferences. Simply make the desired edits, and when you're ready, click on the "Send Message" button. Your message will then be promptly delivered to the selected users.