Overview

Watson chatbot is a conversational AI platform that helps you answer customer's queries with fast, and accurate answers. Kommunicate provides a codeless integration with Amazon Lex. You can easily integrate a bot from the bot section in Kommunicate dashboard.
Integrate with Watson

Kommunicate requires the following information to query the chatbot on behalf of the user. This information is available from the IBM cloud console.
API key : The API key is the token assigned to a device that has been granted a specific level of delegated access to the IBM Cloud organisation. Only after an API key and token are generated can a registered device interact with an application. To get the API key navigate to Resource List and select the assistant listed in the services option.

Service URL : Its purpose is to identify the base URL for your service instance, and the URL represents a Watson Assistant instance hosted in which region. The service URL can be obtained from the resource list in the same services option.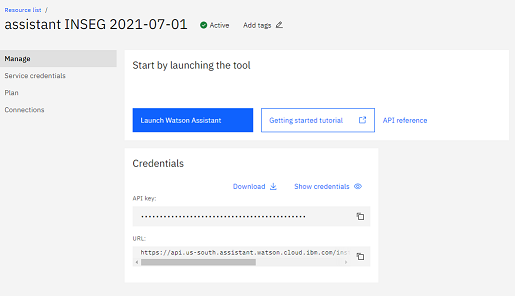 NOTE: Do not use the URL mentioned under Assistant Settings, the URL must be from the Manage section of the Assistant.
Assistant ID : The bot is given an assistant ID to distinguish it from others; for example, each Watson Assistant created in your IBM cloud account will have a unique assistant ID. Navigate to Assistant Settings >> API Details to obtain the Assistant ID, which you must enter on the Kommunicate bot integration page.

After obtaining the above information, proceed with the following steps to integrate the bot with Kommunicate.
Login to Kommunicate and go to bot section.
Click the Integrate Bot in IBM Watson card.
Fill the required detail and click next.
Give the bot a name. This name will be visible to all the users who interact with the bot.
Enable/Disable the autoHandoff setting if you want your bot to assign the conversation to a human agent in your team when conversation is hung up by bot.
Select Let this bot handle all new conversationand all new Conversations started after the integration will be assigned to this bot, and the bot will begin responding to them.
Welcome message

Welcome node contains a greeting message that is displayed to the users when they first engage with the assistant. It is dialog node that is triggered by the welcome condition. This node specifies that when a new conversation starts, the system should respond with the welcome message that you add to the response section of this first node.

In the edit view, you can change/replace the default text response.